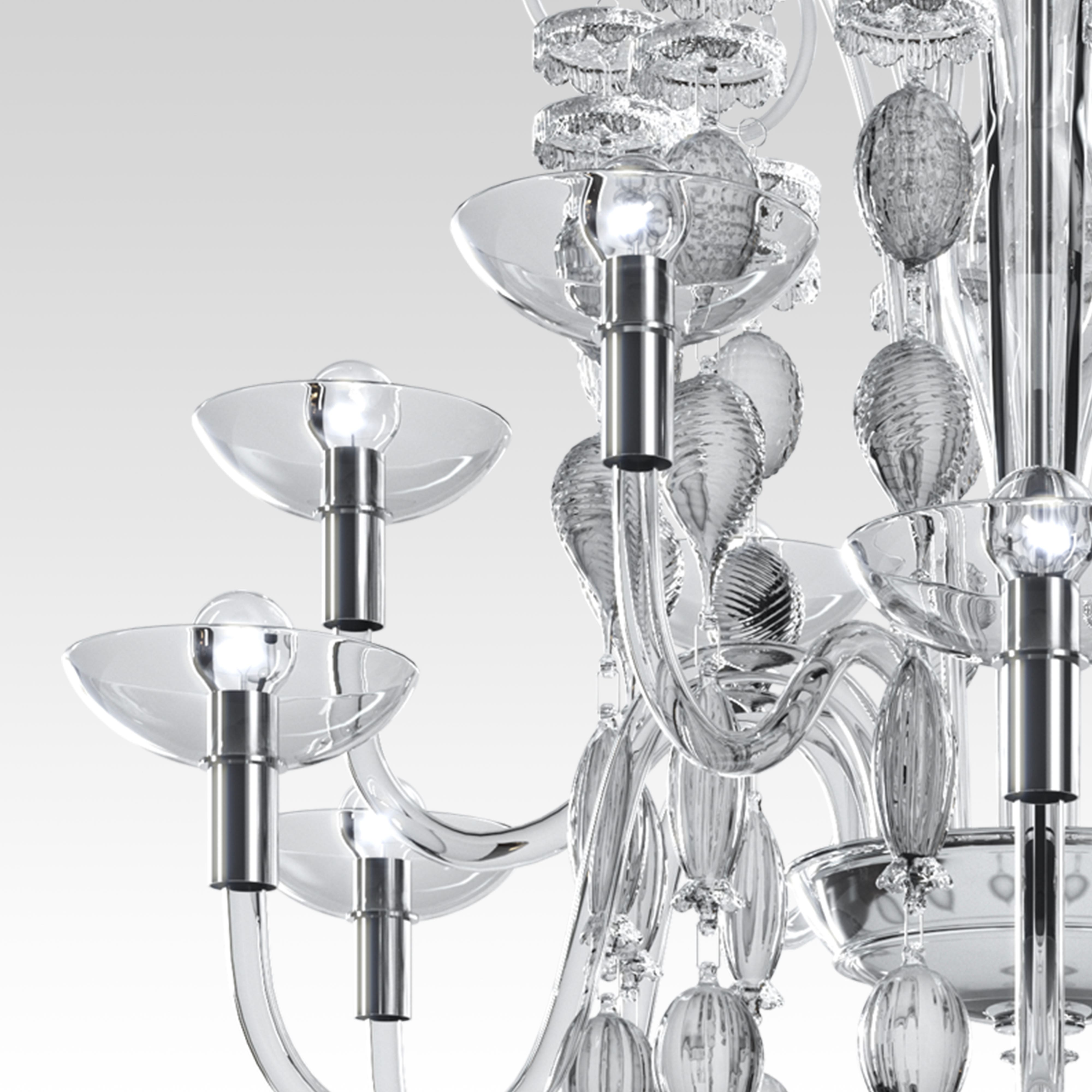 Make your space unique with our Murano glass CHANDELIER.
Make your space unique with our Murano glass CHANDELIER.
Informationen anfordern
Venini's artistic director for more than a decade, Carlo Scarpa deeply influenced the company's production, managing to merge his own intellectual vision with the highly refined techniques of the Murano glass tradition.
This collaboration gave rise to objects that still today remain models of timeless elegance; for example, this CHANDELIER is essential in the elements that make it up, yet opulent in its overall effect.
CHANDELIER in blown crystal glass, pure or with gold leaf, consisting of arms and scroll elements, from which hang pendants made using both the "balloton" and the straight and twisted "rigadin" techniques.
The structure is chrome- or gold-plated metal.
This model is conceived in versions with eight, twelve or sixteen lights.
Farbe

CRYSTAL

MADE IN ITALY

Collection

CARLO SCARPA COLLECTION

Verarbeitungstechnik

Blown

Fertigstellung

Chromed metal / Fabric shade on demand

Höhe

107 CM

Tiefe

24 CM

Durchmesser

100,00 CM

Lichtquelle

12 x max 8W LED E14

Ref.

FC337112000X0B
Die Lieferzeiten variieren je nach Verfügbarkeit der Produkte. Die Lieferung der gekauften Produkte dauert zwischen 48 Stunden und 7 Tagen ab dem Datum der Auftragsbestätigung, je nach Verfügbarkeit der Produkte. Bei Neueinführungen variieren die Lieferzeiten zwischen 45 und 60 Tagen. Überprüfen Sie die Lieferzeiten in der entsprechenden Rubrik.
You might also like
Deco

Napoleone Martinuzzi