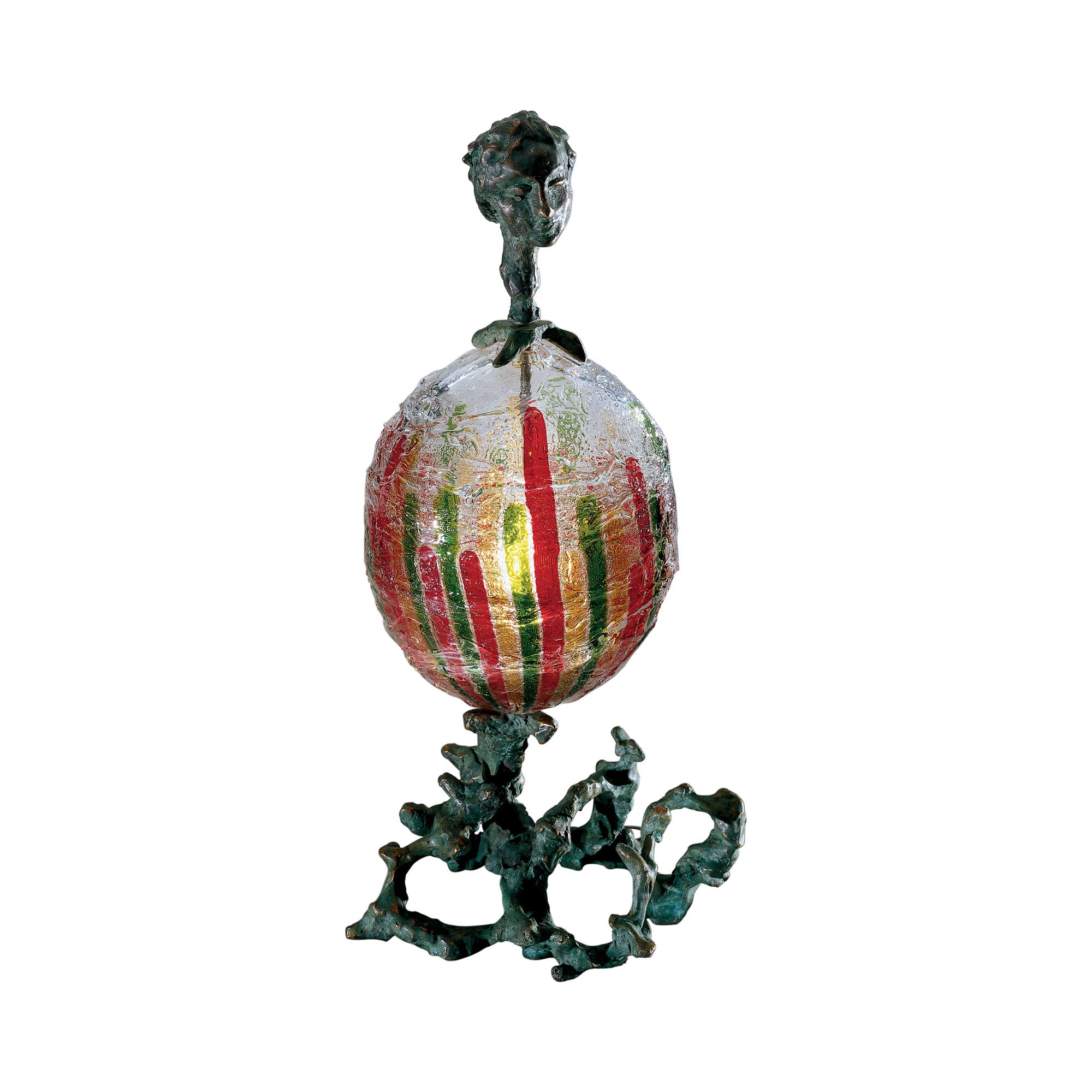 Be inspired by the timeless beauty of our Murano table lamp and light up your...
(Read more)
Be inspired by the timeless beauty of our Murano table lamp and light up your...
(Read more)
Request Info
"Bronze and glass enter into a dialogue in Donna di Rango.
The transparency, colour and light of the glass form an ethereal body from which a female head rises to pay an ideal homage to beauty and womankind."
Sandro Chia
Color

MULTICOLOR

Finishing

Bronzed metal

Ref.

TL301660000A0ANW

MADE IN ITALY

Limited Edition

49

Height

61 CM

Depth

15 CM

Diameter

28,00 CM

Year

2004

Collection

DONNA DI RANGO

Processing Technique

Bands, Blown, Decorations, Mixed

Light source

1 x max 8W LED G9
Shipping times vary depending on product availability. Delivery of purchased products takes between 48 hours and 7 days from the date of order confirmation, depending on product availability. In the case of new launches, shipping times vary from 45 to 60 days. Check the delivery time in the appropriate section.
Designer
Born in Florence on April 20th, 1946, Sandro Chia attended the Istituto d'Arte and Accademia delle Belle Arti in Florence.
He travelled to India, Turkey and most of Europe to then settle in Rome in 1970. Here, he developed his work in the conceptual field holding many exhibitions in Italy and Europe.
A leading exponent of the Transavantgarde movement, Chia distinguished himself with his unmistakable style, which hovers between the power of signs and the impetuousness of colours: the creations that derive from it do not so much describe reality as outline an imaginary world.
The two works Mappamondi he created for VENINI clearly express his identity as an artist: they are the fruits of a conceptual design where the glass, almost a globe, seems to swirl around at high speed, pervaded by mysterious light penetrating from below. The magical multi-coloured radiations shine all around and shed light even on the base structure in cast bronze.
The glassmaking techniques involved employ layers of glass in different colours, with gradations developing vertically on a transparent glass mass.