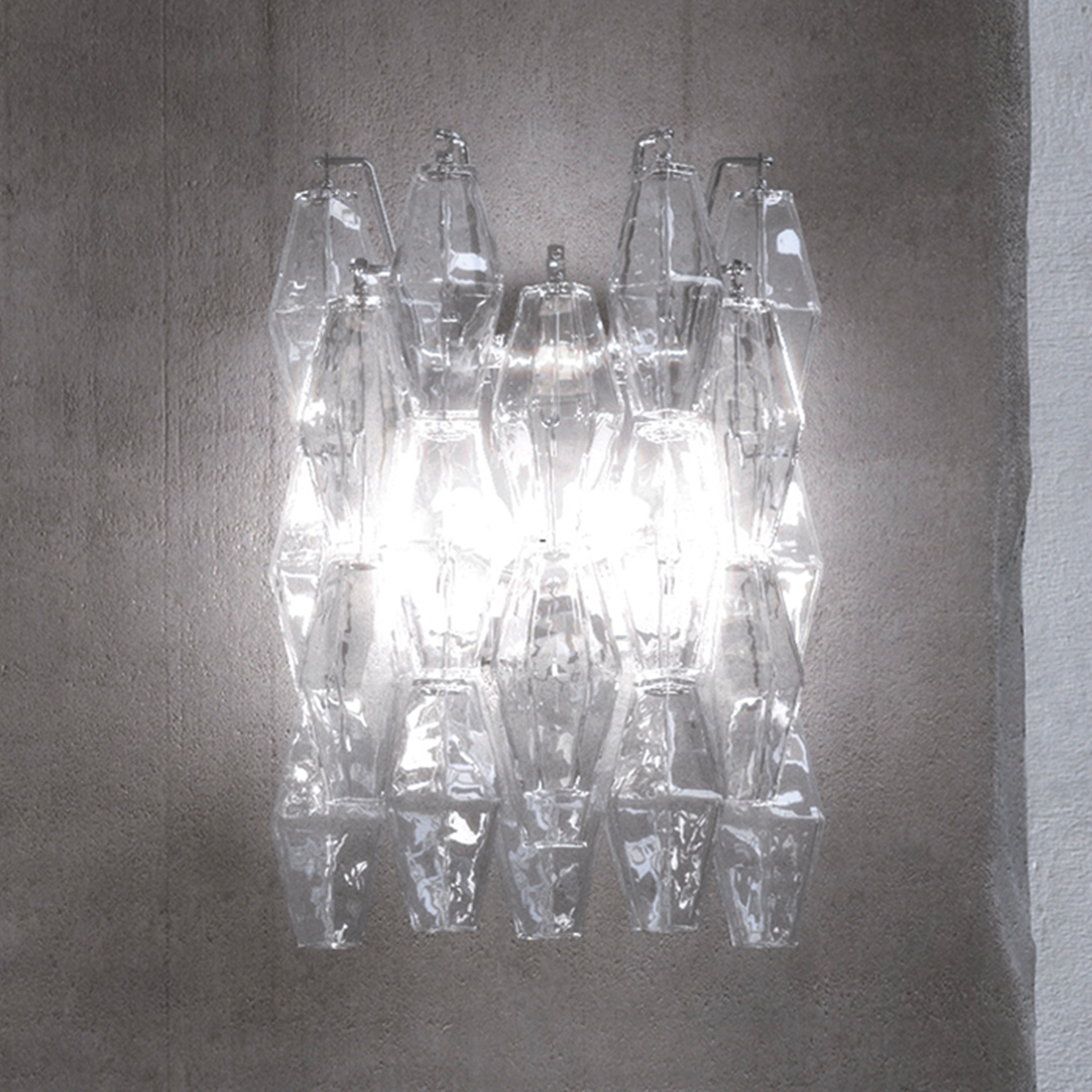 Experience the style and charm of Murano applique and make your decor unique.
Experience the style and charm of Murano applique and make your decor unique.
Request Info
The "Poliedri" were first proposed as components making up the large Venini CHANDELIER, designed by Ignazio Gardella, Paolo Venini and Enrico Peresutti, presented at the 1958 Brussels World's Fair, installed in the central hall of the Italian Pavilion.
The same module was used for the famous cascade CHANDELIER created by Venini with Carlo Scarpa and proposed at the Turin "Italia '61" Expo.
These blown glass elements make it possible to create an ever-changing array of lighting fixtures of different shapes and sizes.
Color

CRYSTAL

Finishing

Chromed metal

Ref.

FP395127000X0B

MADE IN ITALY

Height

39 CM

Depth

6 CM

Diameter

19 CM

Year

1958-1960

Collection

POLIEDRI

Processing Technique

Blown

Length

27 CM

Light source

2 x max 8W LED E14
Shipping times vary depending on product availability. Delivery of purchased products takes between 48 hours and 7 days from the date of order confirmation, depending on product availability. In the case of new launches, shipping times vary from 45 to 60 days. Check the delivery time in the appropriate section.
Designer
Graduated from the Accademia di Belle Arti in Venice, Carlo Scarpa dedicated himself to academic teaching in the same city, holding various positions until 1977.
Scarpa asserted himself as a designer after the Second World War thanks to the creation of some important installations, particularly in Venice: the Paul Klee exhibition for the XXIV Biennale, the Pavilion of Art Books in 1950, and the Italian Pavilion at the XXVI Biennale.
In 1932, he started working for VENINI and was the artistic director of the brand until 1946. After all these years, Carlo Scarpa left an indelible mark on the world of the Fornace (Kiln), due to his design of models that went down in history and his constant search for the most sophisticated techniques.